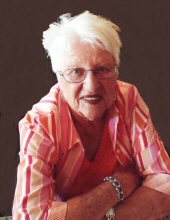 Obituary for Mary E. Schreiner
Mary E. Schreiner, age 93, of Spring Green passed away peacefully surrounded by her family on Wednesday, April 18, 2018. She and her twin sister Jessie were born weighing a little over two pounds each on October 11, 1924, daughters of Clarence "Pappy" and Mildred (Buchner) Hutter. They were born at home on the family farm, now belonging to Mary's nephew and godson, Willy Hutter. She graduated from Spring Green High School in 1942 and moved to Madison with her sister Jessie where they lived off State Street for seven years. They spent many nights attending dances at the Masonic Temple during WWII, reminiscent of their teenage days dancing at Rainbow Gardens, the dance hall owned by her parents in Spring Green.

It was attending dances at Rainbow Gardens where she met her future husband, Florian "Bub" Schreiner as a teenager, however, their romance did not start until Bub returned from WWII. Pappy Hutter wouldn't let his girls dance with the boys. The twins were only allowed to dance with each other in between shifts serving refreshments to the patrons.

Mary and Bub fell in love and married at St. John's Catholic Church in Spring Green on June 18, 1949. They purchased a farm in 1951 where she lived until 2015. She and Bub farmed while raising their four children. You could often find Mary helping on the farm. She wasn't afraid to get dirty, but also enjoyed "putting on her face" and getting dressed up. She never left the house without her lipstick. Her love and flair for fashion, especially wearing hats, was well-established long before she joined the Red Hat Ladies.

Mary had many hobbies. She enjoyed playing cards, reading, sewing, especially making baby quilts, knitting, crocheting, vegetable gardening, canning, raising and "dressing" chickens, but most of all, cooking for her family, friends, and neighbors. If one of her neighbors was sick, she would show up on their doorstep with a hot meal or a casserole. She took great care in planning family meals, ensuring that she prepared enough food for everybody and that dinner included everyone's favorite dish, especially her fried potatoes. Her tradition of holding Thanksgiving dinner on the opening day of deer season is now in its 43rd year. Granny Mary's thinking was, "since they're here hunting, I may as well feed them!"

She was a member of St. Luke's Catholic Church and volunteered for several organizations in her earlier years, American Red Cross Blood Drive, St. Luke's Fish Fries, Plain American Legion Women's Auxiliary, National Council of Catholic Women, and Daughters of the American Revolution, just to name a few.

Mary is survived by her children, Frederick and Ruth, William, Emma and Brian, grandchildren, Jesse and Mindy, their children Camdyn and Vada; Matthew and Athanasia, their children Marielle and William; Crystal, Joshua, Alex, and Jordan and Monique. She is also survived by her brother, William Hutter. She was preceded in death by her parents, her husband, Bub, their son David, sister Jessie and her husband James McEvilly, sister-in-law, Judine Hutter, and Bub's parents, Herb and Emma Schreiner.

A special thank you to the staff at Oregon Manor and Agrace Hospice Care. Their exceptional care of Mary was a blessing to her family.

A memorial service will be held at 3:00 pm on Saturday, May 5, 2018 at the Richardson- Stafford Funeral Home, 780 N. Winsted Street, Spring Green, Wisconsin with visitation starting at 1:00 pm until the time of service. Online condolences available at www.staffordfuneralhomes.com.
Previous Events
Visitation
Richardson-Stafford Funeral Home
780 N. Winsted Street
Spring Green, WI 53588
Service
Richardson-Stafford Funeral Home
780 N. Winsted Street
Spring Green, WI 53588