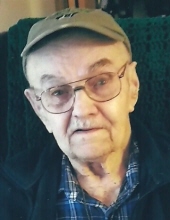 Obituary for Harold Carl Pulvermacher
Thank you for reading this obituary. Harold Pulvermacher passed away peacefully on Tuesday, March 27, 2018 at Greenway Manor in Spring Green with family at his side. One of his fears was that he wasn't worthy of others' admiration. That couldn't be further from reality. By reading this you are affirming his life was well worth appreciating.

Harold was born on May 1, 1925, the son of Conrad and Mary (Wachter) Pulvermacher. He lived his early years during the Great Depression and along the way learned how to work hard, how to save relentlessly, and how to make ends--that were way too far apart--meet. He left formal schooling after 8th grade to help support his family. As a young adult he caught the eye of Ruth Lockman at a dance hall. They married in 1949, danced the Blue Skirt Waltz many times, and celebrated 65+ years of married life.

Together he and Ruth worked the farm and raised their family. They each also worked outside the farm. His labors were physical—farmer, construction worker, state park groundskeeper, and Umhoefer Lumber yardman. A sore back and sweat-filled shirt were the signs of a good day's work. He enjoyed gardening, raising poultry, spending time with grandchildren, hunting, and perfecting his rooster crows.

Harold is survived by his 4 children Carl (Darcy) Pulvermacher, Nancy (Keith) Maxwell, Sue (Allan Alt) Pulvermacher-Alt, and Julie (Rob) Bauer; and his siblings—sister Mary Jane Dischler and brother Conrad (wife Pat). He was blessed with 11 surviving grandchildren—Kendra (Jason) Schluter, Tod, Beau, and Cody (Lori) Pulvermacher; Kyle (Jenn), Nathan (Julie), and Kallan (KayDee) Maxwell; Justin and Maggie Alt; and Lucas (Courtney) and Jillian Bauer. His further survivors include his precious 8 great grandchildren—Andrew & Tyler Maxwell; Tessa & Macie Schluter; McKenzie & Logan Maxwell; and Connie & Vivian Pulvermacher. While not related by bloodline he is also survived by members of the Swenson family--farm neighbors for generations who have become part of the family. Harold was preceded in death by his wife, Ruth, his parents, his sisters Gertrude (and husband Melchior) Ballweg and Helen (and husband Louis) Ballweg, his brother Paul (and wife Ruth), his special brother-in-law Simon Dischler, and numerous other family members and friends. As you read this Harold is busily telling tales of 28-point bucks and 9-pound tomatoes to those he loved who went to heaven before him.

Even though Harold often looked at life through the discouraged lens of clinical depression he never faltered on being kind to and generous with those he cared about and loved. He would pass the bowl of potatoes to everyone at the table before he served himself. He would discreetly pull out his wallet to share a few extra dollars with a grandchild on their birthday. He would share the abundance of his garden from the back of his pickup truck with all who heeded his produce call. He tenderly cared for Ruth and would sing his own version of Amazing Grace to her in her latter stages of Alzheimer's because she loved the song. Harold's gentle soul lived beneath a sometimes-gruff exterior. Those who were lucky got to know the man beneath the upside-down smile.

A Mass of Christian burial will be held on Tuesday, April 3, 2018 at 11:00 A.M. at St. John's Catholic Church in Spring Green with burial in the church cemetery. Visitation will be held on Monday, April 2, 2018 at St. John's Catholic Church from 5:00 P.M.-8:00 P.M. and on Tuesday from 10:00 A.M. until the time of Mass. Online condolences available at www.staffordfuneralhomes.com. The Richardson-Stafford Funeral Home is assisting the family with the arrangements.

The family would like to express their sincere gratitude to Dr. David Dowell, the staff of Greenway Manor, and most of all the staff at Greenway Terrace for filling Dad's final 7 years with loving care, laughter, and great meals in a place that felt like home.

In lieu of flowers, memorials may be made to St. John's School Endowment Fund or buying a flock of chicks or ducks for a family in need via Heifer International (www.heifer.org).

Harold's rooster crow of 9,673 times has found a new roost in heaven. There may he also find inner peace and pure joy. Amen.
Previous Events
Visitation
St. John's Catholic Church
129 W. Daley Street
Spring Green, WI 53588
Visitation
St. John's Catholic Church
129 W. Daley Street
Spring Green, WI 53588
Service
St. John's Catholic Church
129 W. Daley Street
Spring Green, WI 53588