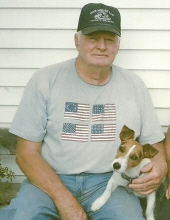 Obituary for William B. Price
William "Bill" Blaine Price died unexpectedly at his farm in Clyde on Tuesday, March 6, 2018 where he lived for nearly all his 83 years. Dad always told that when he was 7 they moved from a neighboring farm to his home farm. He rode a young cow that he had tamed as they moved the cattle through the pastures from one farm to the other. Bill spent his entire life farming – dairy, beef, crops and hauling livestock. He was still baling his own hay, raising a few beef and hauling livestock. Recently he was awarded a service plaque from Equity Livestock for 40 years of dedicated service. He was quite proud of this recognition. Some of Bill's many interests over his lifetime included his love of horses, dogs, deer and coon hunting, collecting guns, playing cards, the Packers and keeping his woods and creek bottoms clear of dead and downed trees! A familiar sight that will be missed when driving by the farm is Bill out driving around in his Mule with his sidekick Eli the dog, or his helper Doug. Bill will be remembered most for his story telling and love of local history, his big smile and hearty laugh, and his generous nature in helping neighbors and friends however he could.

Bill is survived by his wife Carol, daughters Linda (Tom) Kane, Rita Funk, Kim Price and son Steve Price; grandchildren Cassandra Cable, Shelby Funk, Joshua Pletzer, Kaylee Pletzer, Curt, Lilly and Evy Price; and sister Sarah Ketteler. He was preceded in death by his parents Blaine and Gertrude Price; brother Robert Price and sister Eunice Erdahl; and granddaughters Michelle and Angela Pletzer. Funeral Services will be held on Monday, March 12, 2018 at 10:30 A.M. at the Richardson-Stafford Funeral Home in Spring Green. Rev. Craig Peach will officiate with burial in the Harrisburg/Union Grove Cemetery. Visitation will be held on Sunday, March 11, 2018 at the Richardson-Stafford Funeral Home from 3:00 P.M.-7:00 P.M. and again on Monday from 9:30 A.M. until the time of service. Online condolences available at www.staffordfuneralhomes.com.