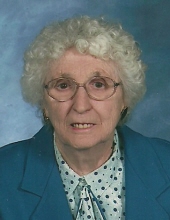 Obituary for Anna Marie Genevieve "Ann" Reisinger
A life of hard work and service came to a peaceful close on February 24, 2018 when Anna Marie Genevieve "Ann" Reisinger died in her sleep on the family farm she helped build in her long and industrious life. She was 93 years old.
Ann was born in Bear Creek Township in Sauk County, Wisconsin, on November 13, 1924 to John W. and Josephine (Laubmeier) Ruhland. A hard worker all her life, Ann did every job from making hay on the family farm with her father to cleaning houses in town, and lived a life that spanned four generations, the Great Depression, and the many ups and downs of farming in rural Wisconsin. Years later, she recalled bygone days of making everything from scratch and taking the horse and buggy to church.
She married Albert Reisinger on April 18, 1950 at St. Luke's Catholic Church in Plain. They raised two sons and dairy farmed together in rural Spring Green until they retired and moved to the Village of Plain in 1976, selling the farm to their eldest son, Jim, and his wife, Jean.
Ann was a lifelong member of St. Luke's Catholic Church. She was also a member of Catholic Financial Life. Ann as an avid quilter, helping as part of a local quilting group to make hundreds of quilts for the Catholic missions, as well as for family. To have one of Ann's quilts was to have a unique piece of family history with handpicked patterns, sometimes even stitched together with pieces of old work shirts or overalls. She also loved baking, canning food, and playing cards – teaching her grandchildren many games from little on, and playing 500 Rummy well into her 93rd year.
She cared deeply for her family, neighbors, and community. Ann was known to visit neighbors and friends all over town, exchanging recipes and dropping off homemade goodies. She also brought Communion over the years to those faithful who were not able to travel to Holy Mass. She handwrote letters to her grandson for six long years when he lived across the country in Tennessee and Washington D.C., and helped care for her granddaughter's children – joyfully keeping a living room that was often strewn with toys once again late in life.
Near the end of her time on Earth, Ann returned to the farm she helped her husband build, living out her final days in the home of her son Jim and his wife Jean, where loved ones including her son Dave, grandchildren, and great-grandchildren visited her each week. She loved to look out the big picture window in the living room to see the sun shining on the farmyard where she had worked and raised her own children years ago.
Ann is survived by her son James Reisinger and his wife Jean; son David Reisinger; grandchildren Brian Reisinger and Malia Reisinger; three great-grandsons, Steven, Roman, and Paxton; and many other relatives and friends.
She was preceded in death by her husband, Albert, who passed away on August 29, 2003; her parents; two brothers, Anton (Genevieve) Ruhland and Herbert (Lucy) Ruhland; and two sisters, Elizabeth (Albert) Seiler and Josephine (Louis) Hetzel.
A Mass of Christian Burial will be held on Thursday, March 8, 2018 at St. Luke's Catholic Church in Plain at 11:30 A.M. Fr. John Silva will officiate with burial in the church cemetery. Visitation will be held on Thursday at the church from 10:00 A.M. until the time of Mass. The family would like to offer special thanks to Agrace Hospice Care and other dear friends who helped in Ann's time of need. Online condolences available at www.staffordfuneralhomes.com. The Richardson-Stafford Funeral Home is assisting the family with the arrangements.
Previous Events
Visitation
St. Luke's Catholic Church
1240 Nachreiner Avenue
Plain, Wisconsin 53577
Service
St. Luke's Catholic Church
1240 Nachreiner Avenue
Plain, Wisconsin 53577