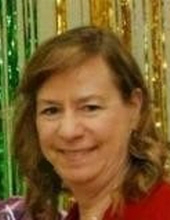 Obituary for Sharron K. Ruhland
Sharron K. Ruhland, age 60 of Tucson, Arizona, formerly from Plain died unexpectedly on Monday December 11, 2017. She was born May 16, 1957 in Sauk County, the daughter of Francis A. and Rita M. (Haas) Ruhland. Sharron enjoyed crafts, collecting mice and many other items, traveling, and had a love for the ocean and anything to do with the ocean (even though she lived in the desert for over 30 years)
Survivors include: 3 sisters; Jacqueline Ruhland of Phoenix, AZ, Pam Severson of Plain, and Sheila (Harry) Pulvermacher of Lone Rock; 2 brothers, Darrel Ruhland of Reidsville, NC, and Duane (Rhonda) Ruhland of Sun Prairie; 7 nieces and nephews; Jennifer & Christina Severson, Richard and Hunter Pulvermacher, Michael Ruhland, Oscar Valdez, and Peyton Ruhland. 3 uncles: Ralph Haas (Maxine) of Spring Green, Kenneth (Gerry) Haas of Cedar Rapids, IA, Dick Haas of Rochester, MN.; an aunt: Elsie Haas of Plain;
many cousins, relatives, friends and her extended family in Tucson Arizona. She was preceded in death by her parents Francis A. and Rita Ruhland and her beloved cat Cookie. A memorial and burial will be held at St. Luke's Catholic church at a later date.
The family would like to thank Sharron's friend Gloria and her mother Evelyn for all they have done for Sharron. Online condolences available at www.staffordfuneralhomes.com. The Richardson-Stafford Funeral Home is assisting the family with the arrangements.