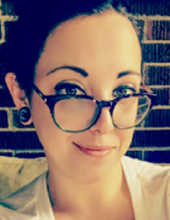 Obituary for Meghan Alexandra Ward
Meghan Alexandra Ward, 28, formerly of Madison, WI, passed away on Saturday, December 9, 2017 in Nashville, TN. She was born in Elmhurst, Illinois on March 16, 1989 to Jeff and Julie Ward. Meghan was larger than life and brought much joy to others through her sense of humor and positive outlook. She loved music, books, drawing, and "borrowing" things from her sisters. Her family was her life. She is survived by her parents Jeff (Wendy) Ward of Middleton, WI, and Julie (Albert) Dadoun of Blue River, WI; sisters Hayley (Jordan) Vos and Kate Ward of Nashville, TN, Molly Ward of Madison, WI, and brother David Dadoun of Blue River, WI, as well as sisters Lauren and Grace Dadoun of London, England, and Delaney Seffrood of Middleton, WI; grandparents Bob and Marna Ward, of New Smyrna Beach, FL, Don and Diana Lindau of Elmhurst, IL, and Caroline Hendrickson of Blue River, WI, as well as many aunts, uncles, and cousins.
There will be Memorial Service at 11:00 A.M. on Wednesday, December 20, 2017 at St. John's Lutheran Church in Richland Center, with a luncheon immediately following at Quail Run Links in Richland Center. All are welcome to attend.
Meghan would want us to honor her memory by carrying on her passion to help others. Her family is creating a foundation in her name, and donations can currently be made at https://www.gofundme.com/in-memory-of-meghan. Online condolences available at www.staffordfuneralhomes.com. The Stafford Funeral Home is assisting the family with the arrangements.