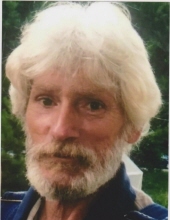 Obituary for Peter A. Maestri
Peter Allen Maestri born March 13, 1943, passed away on December 28, 2018. He was preceded in death by his younger brother James and daughter Elise.
Though he often said he was a "man of few words" his life story cannot be summed up into a few words or even a few paragraphs. For those who knew Peter he was anything but a man of few words, he had the gift of gab, and it was a gift he took full advantage of. He was often the life of the party and if it wasn't a party he would draw in the lucky one or two people around him into his endless thoughts about anything and everything.
He was a true renaissance man, one moment performing well overdue maintenance on his old Allis Chalmers tractors and the next moment discussing psychology and the human condition. He was an artist, mechanic, carpenter, sailor, collector, knife grinder. The list of his skill sets is virtually endless, but without a doubt his most skillful act was being a father. There is no question in anyone's mind who knew Peter that his family was his proudest achievement. He was our dad, but he was also a father figure to more people than may be realized. He gave his advice and comfort to our childhood friends and to newly encountered visitors who wandered down the valley.
Seemingly without effort he was able to lead by example and with principles, with his strongest characteristic being empathy. He recognized we don't always understand others but we can at the very least appreciate and sympathize with those we cross paths with. Nothing speaks greater to this than Peter's collection of friends. Very few people will ever bump elbows with as diverse a group as Peter's friends.
The life he built and the legacy he left behind will continue to make a profound difference in the lives of so many, for generations to come.
Peter is survived by his life partner and loving wife Maggie, his children Madalena, Peter Alex, Gia, and Michael, Will Geraths (Gia), and Taryn Seymour (Peter Alex), his grandchildren Rhiannon, Sam, Molly, Audrey, Peter August, great grandchild Naomi, sister Barbara McCarthy, brother Michael, and many loved nephews, nieces, in-laws, and cousins the world over.
"We lost our lion, but not our memories of him" – Uncle Mike

Remembrance celebration will be held at the former Blackhawk Elementary School, E7995 School RD, Sauk City, WI 53583. Saturday January 19th, starting at 2 pm.
Previous Events
Visitation
Former Blackhawk Elementary School
E7995 School Rd
Sauk City, Wisconsin 53583