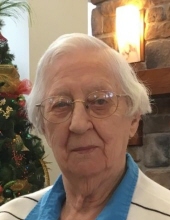 Obituary for Mary P. Tilley
Mary Parker Tilley (nee Dollie Mildred Mary Parker) of Richland Center died Feb. 17, one month after celebrating her 104th birthday.
Mary, the 10th of 11 children, was born Jan. 17, 1915, in Blackduck, Minn., to Charles Roscoe Parker and Emma Clothilde Morrissette.
She received a bachelor's degree in education and a master's in mathematics at the College of Saint Teresa in Winona. She taught mathematics for many years in grade school and high school, first as a member of the Benedictine Sisters at Mount St. Benedict Monastery in Crookston, Minn., and then as a laywoman at Fairfield Public School in Fairfield, Conn., where she and George Tilley of South Bend, Ind., also a mathematics teacher, were married in 1967. While teaching there for 14 years she continued her education at Fairfield University and obtained her sixth-year, similar to a PhD.
The Tilley's moved to Rockbridge in 1982 where they spent their free time traveling and camping in the western United States, Canada, Mexico and Ireland. They also had five successive schnauzer dogs while living in Richland County.
Mary enjoyed knitting, crocheting, cross-stitching and singing, including as a member of the Sweet Adelines in Viroqua. She and George were members of St. Mary of the Assumption Catholic Church in Richland Center.
Mary and George moved to Schmitt Woodland Hills in 2013. Since George's death in 2016 Mary has enjoyed playing bingo, including assisting others with their cards, helping lead the rosary, and telling jokes and stories to staff and residents.
Numerous nieces, nephews and great-nieces and nephews, and her dear friend Irene Joyce survive.
Monsignor Roger Scheckel, pastor, will celebrate a Mass of Christian Burial at 9:30 a.m. Friday, Feb. 22, 2019 at St. Mary the Assumption Catholic Church in Richland Center with burial in St. Mary's Catholic Cemetery followed by a remembrance service at 11:30 A.M. at Schmitt Woodland Hills.
The family extends its deep gratitude and appreciation to the staff and community of Schmitt Woodland Hills for their loving care and feeling of home extended to Mary.
The Stafford Funeral Home is assisting the family with the arrangements. Online condolences available at www.staffordfuneralhomes.com.
Previous Events
Service
St. Mary the Assumption Catholic Church
160 W 4th Street
Richland Center, WI 53581
Service
Schmitt Woodland Hills
1400 W. Seminary St.
Richland Center, Wisconsin 53581
Cemetery Details
Location
St. Mary's Cemetery
X
Richland Center, Wisconsin 53581