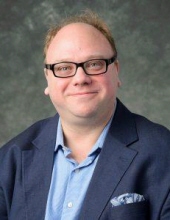 Obituary for Joshua H. Morrill
Joshua H. Morrill age 45 of Spring Green passed away unexpectedly at his residence on Monday, February 25, 2019 of an apparent heart attack. He was born on June 26, 1973 the son of William Morrill and Martha (Peterson) Morrill in Jamestown, NY. Joshua was married on June 3, 1995 to the former Stefanie L. Sinatra.

Josh was currently working as the Assistant Dean for Academic Analysis, Planning, and Assessment at the Graduate School of UW-Madison. He loved data and numbers and helping people better understand what they meant. He especially loved mentoring others and helping them be the best they could be.

Josh was not born in Wisconsin, but it was his home. He loved the River Valley and the people in it, and would encourage everyone he knew (especially those in Madison) to visit and take part in the wonderful things happening there, especially all things theatre. He believed that rural places are important, and served on the board of the Wormfarm Institute (Reedsburg, WI) to put this belief in action.

He believed in kindness, listening, and always trying to find the common ground between people. He left a lasting impression on people he met by living these beliefs. He was memorable because he was brilliant and funny, a wonderful listener and connected to people where they were at.

Survivors include his wife, Stefanie Morrill of Spring Green, his father, William (Alice) Morrill of Sherman, NY., his mother, Martha "Marty" Morrill of Jamestown, NY., 2 sisters, Emma (Neal) Morrill-Mahoney of LeRoy, NY., Mandy (Curt) Bachman of Merrillville, IN., father and mother-in-law, Charles and Nancy Sinatra of Jamestown, NY., other in-laws, nieces, nephews, colleagues and friends. He was preceded in death by his grandparents, Elizabeth Peterson, Harold Peterson, John and Elizabeth Jopson and Lee Morrill. Memorial services are pending.

Memorial donations can be made to the Wormfarm Institute or to the Joshua H. Morrill Memorial Fund at The Peoples Community Bank (PO Box 369, Spring Green, WI, 53588), which will be used to start a lecture series in Spring Green that will begin in Summer 2019. Online condolences available at www.staffordfuneralhomes.com. The Richardson-Stafford Funeral Home is assisting the family with the arrangements.