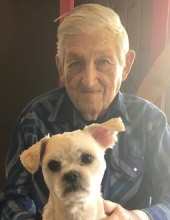 Obituary for Edwin R. Olson
Edwin R. Olson, age 85, of Arena, passed away on Saturday, October 27, 2018 at the Upland Point Corp in Mineral Point following an illness. He was born on June 28, 1933 to Alfred and Alice (Miller) Olson. He was married on February 15, 1967 to the former Gertrude Elaine Richards.

Eddie was a longtime resident of Arena. He proudly served our country in the Air Force having been deployed to Morocco, Africa in the 1950's. He was a member of the Ewing-Olson Post 9336 VFW in Arena.

Eddie by trade was a mixologist, owning the Trophy Bar (Traders Bar & Grill) in Helena for many, many years. He loved hiding out at Hyde Bar playing euchre with his best friends, Herbie and Bakken. He was a great cook. He could make "road kill" taste great! If he wasn't baking he was grilling or smoking meat. He canned everything under the sun, you name it, Eddie did it. He made the BEST brandy wine out of any bushel of fruit that was brought to him. You would receive a bottle of wine that would knock your socks off!

Eddie was known far and wide by many nicknames. Fast Eddie, Eddie Sketty, Poacher Eddie, and Eddie-O. He was a true outdoorsman in any season. If he wasn't "shrooming", he was ice fishing or hunting. He loved spending time with his family and vacationing in the Northwoods in the Flambeau flowage. Eddie was loved and will be missed by all.

Survivors include four grandsons, Travis (Liz) Ripp, Derek (Chelsea) Ripp, Austin (Tami) Ripp, Tohma Ripp (Courtni Busch); great-grandchildren, Robert, Levi, Damon, Emma, Axel, and Beau Ripp; son-in-law Roger Ripp and a special "hunny", Krystal Askevold. Eddie was preceded in death by his parents, his wife, and daughter, Terry Ripp.

Military graveside rites will be conducted by the Ewing-Olson V.F.W. Post #9336 at the Arena Cemetery on Sunday, November 4, 2018 at 11:00 A.M. A celebration of Eddie's life will be held on Sunday, November 4, 2018 at the Ewing-Olson V.F.W. in Arena at 12:00 noon.

Please, all family members and friends are welcome. Come and toast in honor of Eddie with champagne or beer (Miller). Online condolences available at www.staffordfuneralhomes.com. The Richardson-Stafford Funeral Home is assisting the family with the arrangements.
Previous Events
Graveside
Arena Cemetery
US Hwy 14
Arena, Wisconsin 53503
A Celebration of Edwin's life will be held at the Ewing-Olson VFW Post #9336 beginning at 12:00 Noon on Sunday, November 4, 2018.