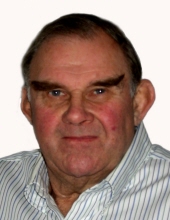 Obituary for David A. Hollier
David Arthur Hollier unexpectedly passed away of an apparent heart attack at his cabin on Loretto Ridge on March 16, 2019. David was born the second son of Horace and Mollie Hollier (now deceased) on February 5, 1942 near Wolverhampton in England when World War II was in full swing. He went on to obtain a bachelor's degree in Agriculture at the University of Reading in the UK and then he joined the Pig Improvement Company, a fledgling company in the UK which offered him more challenges and excitement than continuing in the academic world. He remained with PIC for many years and worked at setting up and advising their many pig operations throughout Europe, North and South America and Asia. In the early 1970's David helped start the PIC farm on Dyke Road, in Spring Green, Wisconsin which is now The Hanor Company. His boundless energy and infectious enthusiasm enabled him to make friends and communicate his thoughts and plans even through the many language barriers he encountered. He had an outstanding talent for attracting, teaching and entertaining people on many levels, from raw recruits to seasoned investors. Outside of work he was a complete maverick. His lifestyle and ability to surprise and entertain are legendary, from traveling the world with his belongings in a paper bag to sitting up most of the night playing Scrabble. In later years he mostly lived in Wuhan, China where he had a company advising Chinese pig operations. From there he would often email his poetry to friends around the world. David is survived by his wife, Maria Leung; a brother, Frederick Charles Hollier; a sister, Jean Wykes and their families who live in the UK; and a special friend, Julie Yin.

A Celebration of Life will be held on Friday, March 22, 2019 at the Richardson Stafford Funeral Home in Spring Green, Wisconsin, beginning at 4:00 P.M. Online condolences are available at www.staffordfuneralhomes.com. The Richardson-Stafford Funeral Home is assisting the family with the arrangements.
Previous Events
Visitation
Richardson-Stafford Funeral Home
780 N. Winsted Street
Spring Green, WI 53588
Memorial Contribution
The David Hollier Memorial Fund
The family have asked that instead of flowers people consider making a donation in David's memory. The David Hollier Memorial Fund will support students of Agriculture with Travel Bursaries to honour David's passion for his work and travel. Please find the link here: https://alumni.reading.ac.uk/david-hollier With deepest sympathy The University of Reading